| | |
| --- | --- |
| | The following Lore information lacks references or sources for some or all of its content, and may not be correct. Please help improve this article by properly citing sources. |
Related topics: Asheron
Character Summary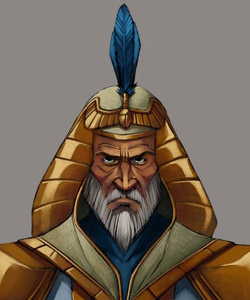 Race:
---
Associated Groups:
---
Eras Active:
---
Important Dates:
RE 336 (date of birth)
HE 647 (casts The Sundering)
---
Related Characters:

Asheron Realaidain is a Yalaini mage and central character in the story. He rediscovered the lost art of planar magic and with it changed the world of Auberean forever. His research in portal magic inadvertently lead to the demise of his people, thanks in part to Gaerlan for leaving a gateway open on the Olthoi home world. Virindi tampering would later lead to portals appearing on planets that the Yalaini had once explored, including Ispar.
Related Pages
Appearances In Game
Lore Articles
Texts

Asheron's Departure Journal

Asheron's Missive

Asheron's Report
Asheron's Second Missive

A Letter From the Heart

A Note on Ancient Goblets

A Note on Ancient Necklaces

A Note on Ancient Rings

Delacim's Death

Letter to Bretself the Translator

Mote and Crystals needed for the Golem Construction

Olthoi Resurgent

Order of Perfect Light
Pack Asheron
Personal Entry, Arrival of Kellin's Troops

Pets of Ispar

Prophecies

Ruminations and Warnings on Portal Creation

Ruminations on Portal Creation

The Departure of Aurlanaa
Characters
Quests
NPCs
Creatures
Locations
Items

Altar of Asheron

Asheron's Benediction

Asheron Mask

Asheron's Lesser Raiment

Asheron's Raiment
Asheron's Greater Raiment

Asheron's Supreme Raiment

Homecoming Pennant

Realaidain Raiment
Images
References